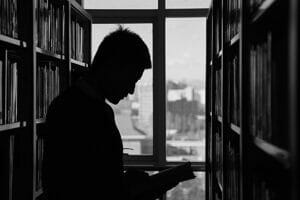 A librarian opens up many possibilities when introducing the library to students. The joys of reading are plentiful as librarians strive to present a variety of genres and authors to a reader. A librarian will do all they can to bring new books, ideas and styles into the library domain. With all the reading that librarians promote, where and how does writing fit in? And how can a librarian bring the two together?
What is reading & writing?
Reading implies decoding text to draw meaning from the words and sentences. While writing is creating text to communicate and convey meaning. With a treasure trove of resources in our care, we are surrounded by several teaching moments. Remember, when a student enters the library, they enter with a sense of comfort and ease as in that moment, curriculum expectations do not bind them. And it is in this receptive environment we get to make a long-lasting impact and must strive to make every library engagement a learning opportunity.
Librarians can complement their reading activities such as book reviews, book clubs, and research with activities based on writing and purposeful—for example, interactive bulletin boards, bookmarks, infographics, and posters, where students contribute their ideas on these boards.
Purpose of Writing
Students can make the connection with the purpose of the writing format. A few examples:
Introduce diary writing: Explore a story based on written diary entries. Teach your students what a diary entry is and its features. Provide them with a prompt to create their diary entry.
Creating a storyboard: Read aloud a story and demonstrate how to create a storyboard. Students will learn how the author has kept track of their main idea, the plot, timeline, etc.
Characterisation: Explore a character – What comprises their inner traits and external traits? How can you convey a certain characteristic without actually stating what the trait is?
Writing Opportunities
In a school environment of learning and growth, students are encouraged to self-select their books for reading, which empowers them to choose books to read. Likewise, facilitate writing as a self-selected activity with various writing styles and activities. Provide opportunities to create content for publication either in print or digital formats. Some examples
Canva to create ebooks/newspapers/magazines
Book Creator to create ebooks
Pixton to develop stories in graphic novel formats
It's essential that when we teach areas of writing, we model and verbalise why and what we are doing. Invite students to not only be observers but participate in your thought process and how you model the example. When you model, you can be sure students have grasped the learning involved.
Celebrating Writing
Celebrate the power of stories and draw student awareness of why stories are important in everyone's life. Instill in them a confidence that they know their story is important and stories must be shared to honour what was and what could be. Create stories beyond the classroom with an authentic audience of other children outside their classrooms. Encourage your students to create stories and share them with others.
Wordless picture books
Personal narrative stories
Fantasy stories
Interviews
After School Activities & Hobby Clubs
After-school activities are a great way to boost student interest and learn about reading and writing. There are various ways to bring in learning and engagement with creation. Some after school activities you may offer:
Newspaper Club
Magazine Club
Print / Digital Media (Creating Presentations, posters, advertisements, etc.)
Podcasts
Blogs
Websites
Involving Parent Community
Parents, too, can benefit from a writer's club or a book club where you can explore the process of writing or even engage in rich discussions around a book. Your school publication can include written contributions from parents, staff and faculty.
Read Bloom Books
Read Bloom Books (RBB) is a platform for students to share their writings, expressing their freedom, voice, and choice. Open to children aged six right through high school, young minds are encouraged to let their imaginations find an expression through creative tools of writing and illustrations.
RBB has sought collaborations with librarians, teachers, and the school community, encouraging reading and writing through various multi-literacy workshops offered. RBB's annual fest Bloom Fest: It's all about stories is a much-awaited event of the year where young authors are celebrated by showcasing their writings, their creative expressions, their writing journeys, etc. The event is student-led, where they are the workshop leaders/presenters, panelists, and moderators of the event.
Reading and writing go hand in hand. And when we give students a platform to express this corresponding link, we can measure their success in the passion they express in their writing. They recognize the power of both components and demonstrate their learning in each strand through their expression. Here is where we must enlist all adults on this writing journey, including teachers and parents.
RBB strongly advocates for student voice and choice, and it is evident in the results with which the platform has grown from strength to strength. Student stories pour in not only from across India but the world over. With over 500 stories freely published in less than two years, RBB has proved to be a well-loved platform by students, teachers, and parents.
Upskill your knowledge
To learn more on how you as a teacher-librarian can bring reading skills and writing skills into your spaces, do consider the Liferarian Association's School Library courses that offer an intensive workshop on the following:
Reading Skills, where you will learn different reading strategies and engagements to support the literacy program.
Writing Skills, where you will learn about different writing styles and how the librarian's role in supporting and reinforcing writing skills in various ways.
This learning opportunity is open to all Educators, Librarians, Teachers, Professionals, Literacy Educators, Students, and Home School Teachers.
As a librarian, you can prioritize literacy and engage your students in multiple ways to promote not only enjoyment of books but also a deep understanding of the craft of writing and creating content. Reading and writing are powerful tools. Recognizing where you can provide valuable input by tying in these two components will ensure that you offer a robust library program meeting the needs of your students and the school community at large.
By Gizelle Rodrigues