Help Build Libraries in Rural India
Together, let's build a nation of readers!
Liferarian Association Celebrates Inauguration of Library and Community Hall in Enchanting Igatpuri Village, Marking a New Chapter of Knowledge and Unity
The Liferarian association is thrilled to announce the successful inauguration of the library and community hall project in the enchanting tribal village of Igatpuri on June 27th. This remarkable achievement was made possible by the collective efforts of the dedicated villagers and our incredible Liferarian association members. We extend our deepest gratitude to each and every one of our members and donors for their unwavering support in turning this dream into a reality.
At the Liferarian association, we are passionately committed to empowering individuals through our comprehensive school librarian courses, enlightening conferences, personalized sessions, and valuable consultations. We take immense pride in knowing that a portion of the funds generated from these initiatives contributes directly to the support of extraordinary projects like this one. The new library and community hall in Igatpuri will serve as a hub of knowledge, inspiration, and connection for the entire community. It will be a space where people can explore the wonders of literature, engage in meaningful discussions, and foster a sense of togetherness.
We believe that access to education and resources can create transformative opportunities, and this project embodies our mission to make a positive impact. We extend our heartfelt thanks to the villagers of Igatpuri for their warm welcome and cooperation throughout this journey. It is through their enthusiasm and belief in the power of education that we have been able to bring this project to fruition.
Join us in celebrating this significant milestone and the countless possibilities it holds for the community of Igatpuri. Together, we can continue to make a difference and inspire a love for learning.
Your Donation Counts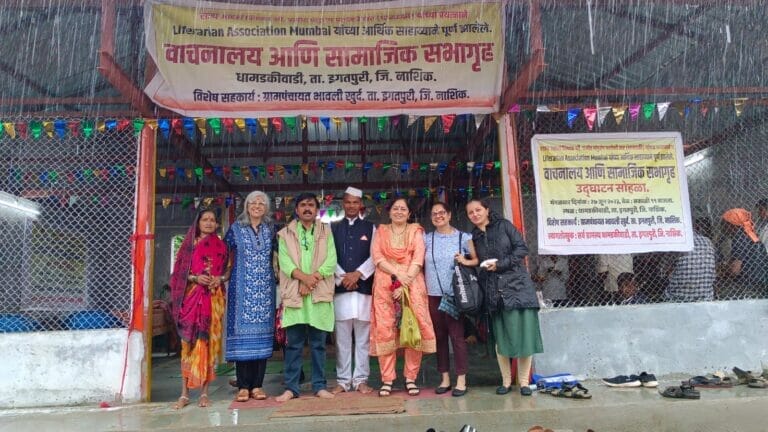 Dear Reader,
Please contribute to building libraries for rural centres in India. Although libraries exist, they are depleted of resources and have little relevance to present-day education. Your contribution counts to raise the standard of education where it is most required.
Libraries in rural India support a literate environment and provide equitable access to print and digital resources. They open up opportunities for learning, citizenship, creative thinking, and individual curiosity. Education is the only être to raise the standard of a child.
Bank details to donate directly to Liferarian Association:
Account Name: Liferarian Association
Account no: 5145033999
IFSC code: KKBK0001345
MICR code: 400485058
Pay via GPay or any UPI app:
Phone: +918591601186
UPI ID: liferarians.librarians@oksbi
Liferarian Association has partnered with Anath Balakashram Orphanage to donate books and set up a library for the children.
Liferarian Association partnered with Vidhya Vidhai Foundation to set up an in-class library with 324 books for the students of Elango Corporation Higher Secondary School, Madurai.
On the occasion of Daan Utsav, Liferarian Association celebrated by providing books for 20 libraries.
Liferarian Association has partnered with Shiksharth on the occasion of Daan Utsav from October 2nd to 8th 2021.
Liferarian Association partnered with Apni Shala to provide over 150 print books to support community learning. Along with 2 Raz Plus licenses of over 3000 developmentally appropriate leveled books.
Liferarian Association is partnering with Adhyayan Foundation to support literacy in Goa from September 2021 to May 2022.
Liferarian Outreach for Wada School 2021
The NEP 2020 (India) has encouraged investment through philanthropic participation that will help build a vibrant and robust education system for students in schools. Inspired by the NEP 2020, and the desire to build foundational literacy and numeracy literacy, Liferarians, a passionate community of Indian Librarians will help build libraries in rural schools and/or ashram shalas where tribal students receive an education.
Liferarians believe that when students are provided with a relevant and current library resource, students will be empowered. The outreach program will align with the educational needs of the students to promote literacy, student well-being, scientific temper and support powerful learning while fostering a culture of reading and learning.
To meet literacy challenges, Liferarians will:
Provide access to print and digital materials for the community.
Promote and build knowledge and skills for librarians/educators/community helpers to promote reading, writing & research skills through a variety of projects.
Contact Email: outreach@liferarian.com
Build a collection of print books in the local language and English books, which will include fiction and non-fiction that are relevant to the scope of students in schools.
Provide technology devices like laptops & tablets with internet access to eBooks and digital curriculum.
Provide training to 2 or more High School students and Librarians/Educators/Community helpers to effectively run the library or community reading centre.