"Libraries store the energy that fuels the imagination. They open up windows to the world and inspire us to explore and achieve, and contribute to improving our quality of life." By Sidney Sheldon
These are unprecedented times, and nothing is by all accounts the same any longer because of the COVID Pandemic. Librarians have to suddenly take on the role of technology experts and are grappling with innovation to go virtual and helping children not losing touch with the rhythm of their daily routine of reading and learning.
Here are my experiences during these times:
Many call this the new normal, but if you had asked anyone seven months back, no one would have imagined that we would have to do the virtual lessons for our students. Keeping the students engaged during these virtual classes is challenging. The teachers are working so hard to keep the students involved and active during these online classes. What about the librarians, you ask? Well, Library has been the 'HUB' of the school for eternity. How can it not be during these difficult times? The school community has even more expectations from us, and we have proved time and again that librarians are the core, the heart, and the school's soul.
Every student's home is a part of the school now. To bring the Library to everyone's home and keep them engaged and encourage reading, I made some Interactive Digital Library using Google Slides and Bitmojis. This way, it works; you use the google slides to create a scene and keep adding pictures and link them to the website. So when the viewer clicks on a particular item, it directs them to the website for that specific activity.
In the beginning, I was skeptical of what the response would be like, so I created two classrooms, one for grades EYP to Grade 1 and the other for Grades 2 to Grade 5. I included audiobooks, research websites, online newspapers, e-books, fun educational games, and some offline activities which they could do to engage themselves and stay away from the screen.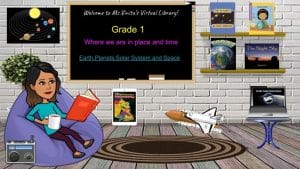 I had an overwhelming response. The students, teachers, as well as parents loved it. When I started attending the collaborative meeting, and the teachers asked me to help them with their unit resources, I thought, why not send them the virtual classroom with all the links. So I created this classroom for Grade 1. As you can see, their unit was on the solar system. I included a quiz, a virtual tour, and some e-books.
To make the virtual Library more engaging, the Grade 3 unit on 'Who we are,' I made this outdoor Library. They click on the animals to know animals' classification, the food chain, ecosystem, life cycle of a butterfly, etc. These are just a few examples of my virtual library classrooms.
Finally, I would like to show the Harry Potter activity that I created for the students of PYP on the occasion of Author J.K.Rowling's birthday. I included yoga, PE, visual arts, music, drama, and even a science experiment to make a 'magic potion.' Audiobooks, e-book, a game of I Spy, word search, and of course a mystery room which had a code to enter. The students had to find the key, which was hidden somewhere in the room. It was a hit amongst the students. Even days after the event, the students still talk about it.
Well, this just needs a little bit of creativity and imagination, which we librarians have in abundance. You can create these virtual classrooms using google slides and use bitmoji to create your avatar and let your imagination take the flight.
I am now making virtual classrooms for learner profiles and research skills that the teachers can access anytime they want.
Getting started:
First, you need to download the Bitmoji app from the play store or visit:https://www.bitmoji.com/ to create an account and make your avatar. You can customize your avatar. You can then download theGoogle Chrome extension so you can use your avatar in the google slides.
Here is a useful tutorial on creating a virtual classroom  https://youtu.be/Y3ZiClcIYJs
Get your creative juices flowing!
Written by Vinita Kamat
PYP Teacher Librarian, Oakridge International School, Hyderabad.