Displays can add a lot of colour and excitement to the library, especially in the school libraries, where they can add many colors. Promoting the library's materials and increasing circulation can be difficult if the library only focuses on book displays. 
 'We place great importance on displays in my school, and they are an integral part of our events. Displays are the lifeblood of our events. When it comes to events, we celebrate different library themes every month of the year. It includes the planning of the event and then how to display the library resources so that patrons can be attracted, and we can get positive usereExperiences.'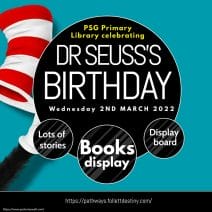 Library activities and resources can be promoted in many ways. I've listed a few below.
Event Flyer
Having a wonderful event flyer is essential if we want the event to be successful. It should be self-explanatory. All relevant information should be included so that the user can easily understand and be a part of that event.
 Different tools are available on the web to create beautiful flyers like- 
 I use postermwall to create these beautiful flyers and invites. Book Displays
In celebration of library events, we display the relevant library resources to encourage readers to take part.
Display boards
A display board located outside our library is updated regularly and attracts many patrons seeking information about a particular topic. 
By Ms. Shashi Bala, Librarian, Pathways | Gurgaon | India