Reading, Listening and Learning happens at the LRC (Learning Resources Center)
Without books, nobody would know 
What, Where, When, Which, Who and How.
If there are no 'W's and H' there would be nothing.
Reading gives more knowledge which leads to a better understanding and learning of new things.
We can create miracles with books which can only be possible in libraries because it is the house of words, pages and many more. In literary senses, the room which embraces the knowledge from around the world is called the library. Here we learn how to organize ourselves, research, and grow. There is no age limit for reading; any human can fall in love with reading at any point in their lives. 
When we talk about our stories; our imaginations, our actions, and our thoughts,' they all resemble a story. Novels are experiences from our lives. 
Through 'Imaginations, Experiences and Knowledge,' every human has different ideas and pursues different actions. Hence, we have and are still receiving various forms and methods of stories. 
Both 'Fiction and Non-Fiction' formed a strong base which has turned the libraries into a place where everyone in the world can obtain and share knowledge through a 'Bunch of Pages' also known as books. 
In remote days there were not many resource centers, to listen to stories from our elders and the community learned a lot. Those stories are now in the form of books.
If there is any place on Earth where we can carry any resource or knowledge from a child to an adult; The one place that exists is known as the 'LIBRARY'. 
This year activities which we implemented in our library to enhance Read to Learn and Learn to Read were: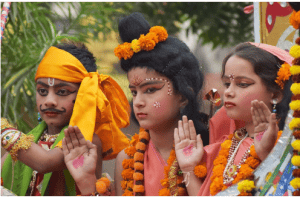 Ramleela-We all know the mythical story Ramayana and its importance in India; so on Ramleela, we took our time to create a short depiction of it by acting it out for the students, which in turn increased their curiosity and interest in mythology.
Read-A-Loud– World Read Aloud Day was founded in 2010; it was initiated to celebrate literacy by reading aloud since education is a fundamental right of every child. So, we decided on that day to bring together all the students of our block on to the schoolyard and read any book of their interest.
Story Telling Workshop – We held a virtual online class for the students to show them all the different ways of storytelling and to show how awesome and exciting it is to read, listen and write. 
Library Fair– We conducted a library fair for all the students of the school. The fair consisted of many activities and lasted for a week. We had different stations; station where they got to listen to stories explained through pictures, another station had inspirational stories, the third station had all different kinds of books, and they could read any book they wished to.
Epidiascope– Epidiascope is an invention that was created to project the screens and images onto a larger surface. On August 15th, we took the time to develop an innovative version of it to show all our students the different freedom fighters and explain all their significant contribution to our country. 
Read-A-Thon – This was an activity that was newly introduced to the school this year. All the students got logs onto which they had to record their time of reading for the whole week. At the end of the week, the students with the highest reading time received a surprise gift.
Trivia & Brain Teasers– Every Monday of the week, the students are tackled with mind-boggling trivia and brain teasers of general knowledge and various other real-world topics to enhance their outside knowledge of things in life. And every Monday, along with the new challenges they also get the key to the previous week's trivia and brain teaser. 
Teachers Workshop – We took a seminar with the teachers on how to use the library for all their subject needs and to enhance the student's ability to comprehend and improve their understanding on the syllabus of different subjects.
Clay Work – A fun and interactive task where all the students were handed a handful of clay to create and plot story and make their characters from the story with clay to display to their class.
Inspirational Stories – The students listened to inspirational stories every week. And developed various skills by attending these 'Inspirational Seminars'.
A library is a place of information lets love & express & share.
– By Divya Kunchala