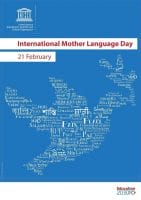 'BHAASHOTSAVA 2020' @ SILVER OAKS INTERNATIONAL SCHOOL, BANGALORE
International Mother Language Day is marked on 21st February of every year. Languages are the most powerful instruments of preserving and developing our tangible and intangible heritage. According to the UN, 'Every two weeks a language disappears taking with it an entire cultural and intellectual heritage.'
According to the IB Philosophy, section A, Practice A7, the school places importance on language learning, including mother tongue.
We celebrated a month-long language festival named it as "Bhaashotsava 2020", with the tag line 'Kaliyonu Baara – Kalisonu Baara'; 'Aaoo Seekho – Aaoo Sikhaao' (20th January to 20th February) to bring in the beauty of the mother tongue and shine the diversity of languages. The purpose of 'Bhaashotsava' is to enable our students to gain exposure and learn to appreciate the richness of communications around us.
The objective of 'Bhaashotsava 2020' festival was:
*To expose students to different languages around us.
*Creating interest in language learning as it is refreshing /cool to learn different languages. 
*To uncover the richness of different languages.
*To develop research skills and communication skills.
*To showcase the learner attributes, inquirer and open-minded person.
*To sharpen our multilingual ability.
During the Bhaashotsava festival season, exciting activities were planned in the school like Story narration, songs/poems, quiz and facts about language, talks in mother tongue and many more. Speakers @ Silver Oaks competition conducted in mother tongue too!
Dance master trained students to put their steps for different language songs.
Sports team used their different language communication skills with the students during their PE classes. ICT team planned to explore with students multiple language tools. 
On Bhaashotsava 2020 board, posted the phrases to translate in their mother tongue. Students were enthused to find the phrase to translate or explain it.
Different language books display grabbed the attention of the readers!
Language clubs:
Language clubs were formed to enrich the mother tongues! Through these clubs, students are encouraged to communicate in their mother tongue. This helped them to develop their critical thinking and literacy skills. Students enjoyed talking in their mother tongue, and they were proud to express their feelings towards their mother tongue! 
Involvement of the parent community: Our parents and grandparents sent us the recorded read-aloud stories in their mother tongue, which has been played in all the classes.                                                                                                                                
Grandparents are the best storytellers! Enthusiastic, energetic grandparents visited us to entertain our students with storytelling sessions in their mother tongue. 
World read aloud day: 
WRAD celebrated across the globe on 5th February. We wanted to mark this memorable event with our Bhaashotsava! Hence, many read aloud and read along links of different languages were shared to the team to highlight the importance of read-aloud sessions. Senior students visited junior classes to conduct engaging read-aloud sessions and puppet shows. Students narrated the stories in their mother tongue in the classes. Buddy reading engaged the students during their free time. Arranged a Skype session with an author and presented a story through Skype to other schools too.
We culminated our Bhaashotsava 2020 on 21st February 2020 as part of the celebration of International Mother Language Day. In the school assembly, students initiated with speech, quiz on languages, story presentation and dances for different language songs.
This year's 'Bhaashotsava 2020', a month-long festival, motivated our students to explore the beauty of Languages, to gain exposure and learn to appreciate the richness and diversity of languages around us. 
With wholeheartedly, the entire school community was involved in engaging the students to know about the 'Power of Languages'!
By Mangala Ganesh and Jyothi N, Librarians, Silver Oaks International School, Bangalore.